Ford Model A Pickup Restoration December 2011
The assembling of the doors was not so easy, since various parts did not fit.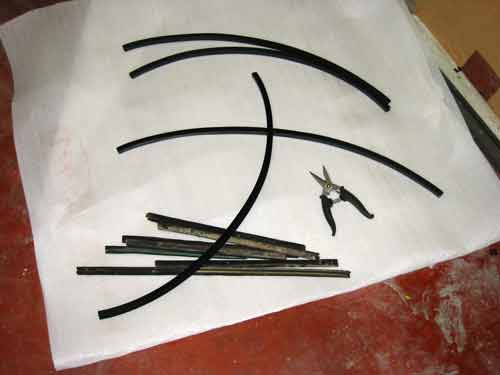 First I had to cut the profiles of the window guides to the right length.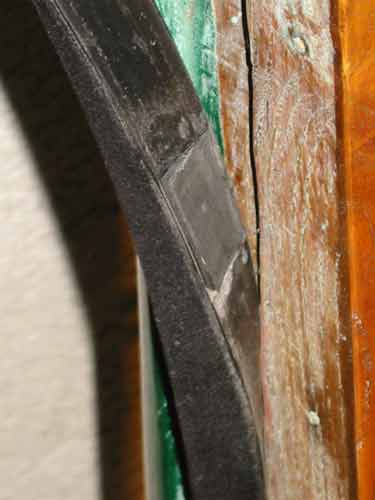 Here I had to underlay a piece of rubber, because the surface was not flat. At the top of the window frame I had to move the already-mounted guide by 2 mm, since the glass did not fit. This was already as original, but I did not made enough accurate pictures during disassembly.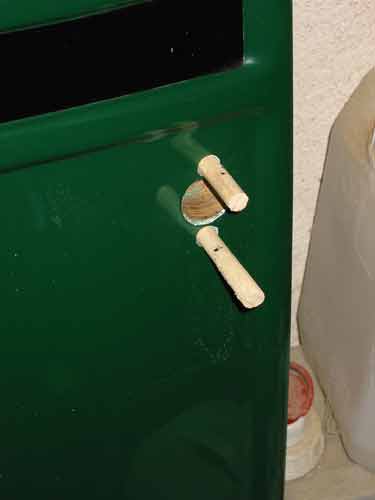 After the window glass can be moved easily up and down, I have to fill the old holes so the new screws can be mounted without problems.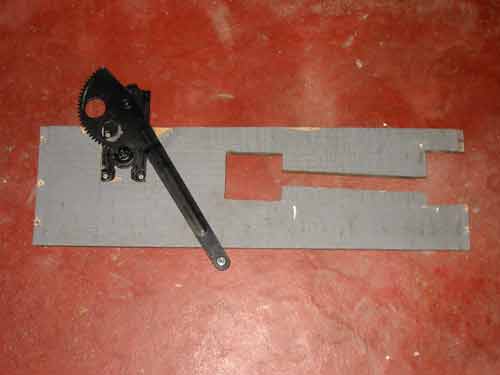 To move the window glass with a crank, the crank mechanism has to be mounted onto the wooden plate.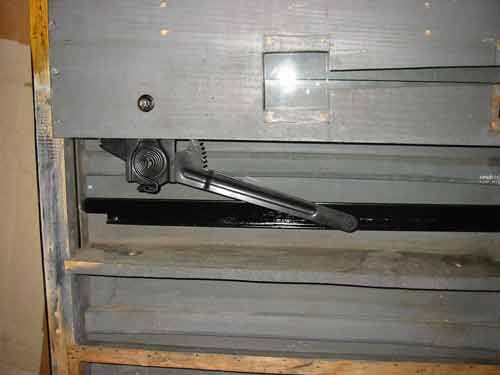 Then the arm is hooked into the rail of the side window and the wooden beams bolted to the door.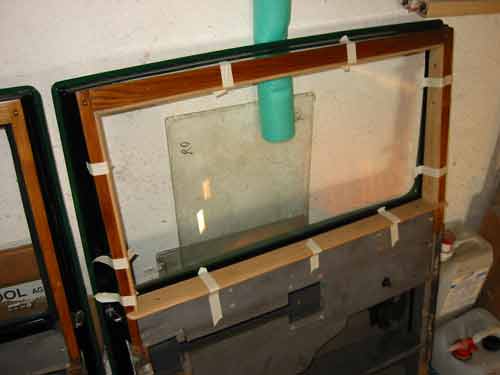 Now the window frame is mounted temporarily. By the way, this is the original wood, which I have just sanded.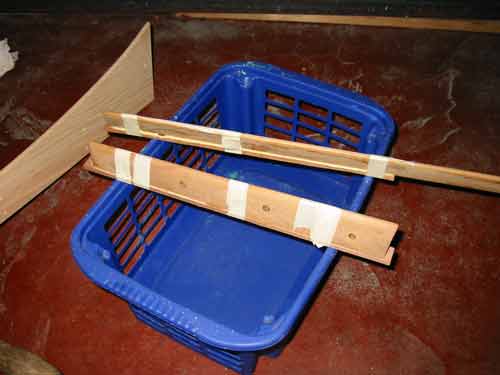 Unfortunately, on one door side there was a wide gap of up to 5mm. This was original, but looks pretty ugly. That's the reason why I glued two book shelves and polished them that everything fits.
Now I finally can fix all parts with a masking tape and drill the holes.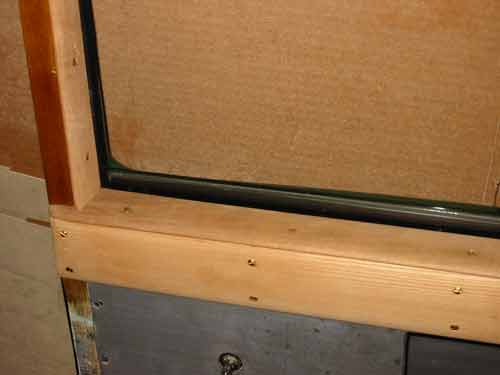 Then I fix it with brass screws. The screws will be nickel plated later.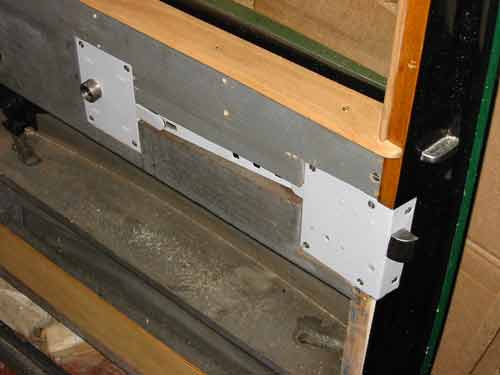 The door latch is mounted too.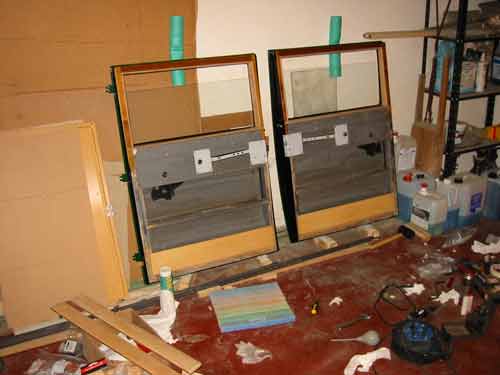 The interior lining is made later, I'll continue now with the door handle and the lock.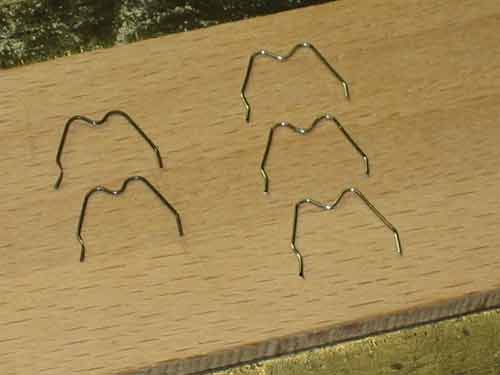 These feathers, left the old ones and on the right hand side the newly manufactured are used inside the lock. The old ones were either broken or worn out, so I had to make new ones.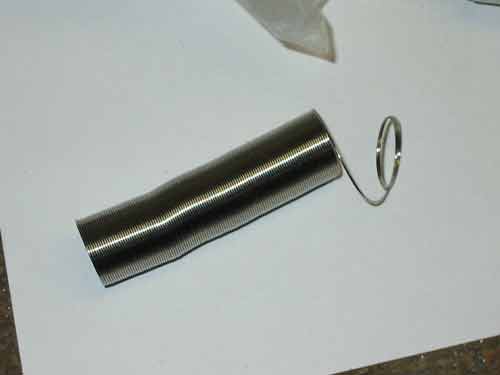 I have found this spring in a hardware store and it has the appropriate wire diameter.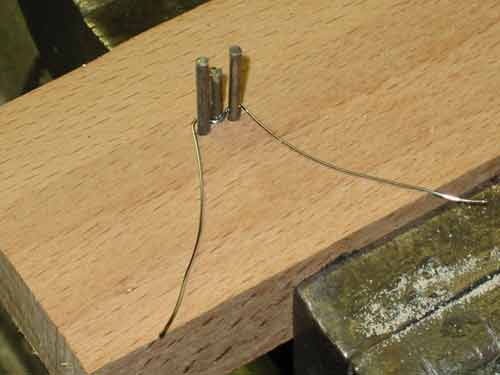 To bend the wire into the required shape I'm using such a bed of nails. First bend the wire about 90 degrees around a nail, then merge onto the nails and bend both ends down.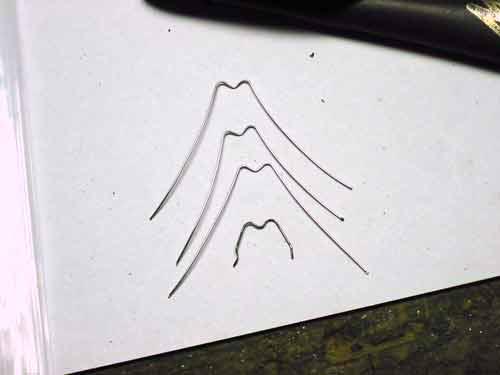 The rest of the job you can do with a pair of pliers.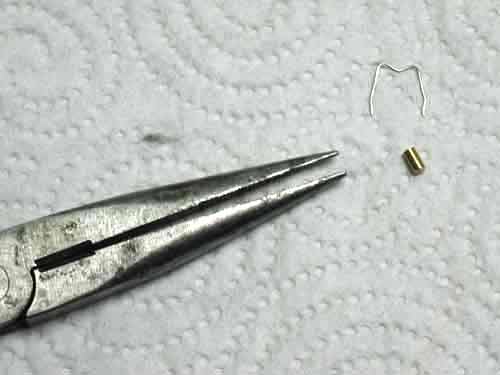 Besides the springs I have recoded the lock and I also had to replace a worn bolt. I've spent some time for searching springs and bolts at the workshop floor, because they have been flown away … At the end I could bend a new spring in about 3 minutes and it was the faster way than searching them on the ground ;-)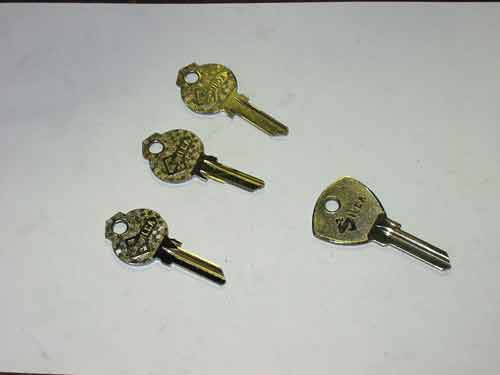 The shape of the 3 keys on the left I've modified, so they look now the same as the original key..
On the picture it looks similar than at the end of last month, with a small difference that inside everything is functioning now too.
---
      Copyright ©  2001-2019 Markus Maurer - all rights reserved  
 |  Last modified: 23.12.2018  | 
Print Page