Ford Model A Pickup Restoration May 2018
In the meantime, my wheel gripper is finished and that's how it looks now.
Depending on the type of jack you have to modify the connection to the wheel gripper compared with my version. It is important that you are using a jack that is as low as possible in order to have enough free space between ground and the bottom of the car.
In my case, I have welded a nose to the middle flat steel to get a connection with the jack.
The 5 steel profiles with 12x50mm size are not welded together.
With this clamp, the steel profiles are secured, so the wheel gripper can not tilt and is always in horizontal position on the jack.
The clamp must be individually adapted to the jack you are using.
With a total height of 15 cm you have no problems with free space.
The outer gripper can be fixed in 3 different positions dependent on the track width.
Now you you can push the wheel gripper under the car.
What is missing is the round steel and the tube which is pushed over it.
The tube allows turning the wheel relative to the wheel gripper arms.
On the inside there are stops for the round steel.
When assembled, it looks like this.
Raised to the maximum height …
… of 55 cm (depending on the jack)
Now follows a few details …
Since the whole thing is quite heavy, I wanted to weld a subframe where I can use the jack as a dolly.
The frame can be easily placed on the jack.
After that, all necessary parts can be stowed on it.
Making a copy of my wheel gripper is allowed but at your own risk (please recalculate the construction by yourself) and the plans are coming soon …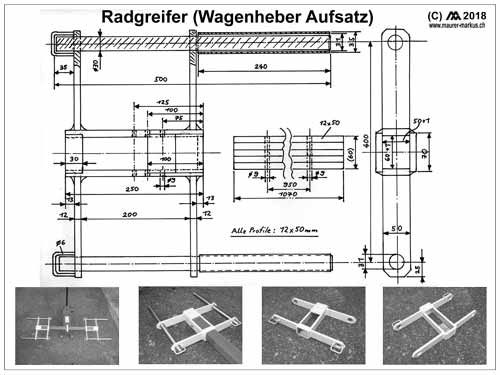 … and here is the drawing of my construction or click on the picture for a larger view..
---
      Copyright ©  2001-2019 Markus Maurer - all rights reserved  
 |  Last modified: 23.12.2018  | 
Print Page