Ford Model A Pickup Restoration April 2018
In April, I was able to test my self made wheel gripper. It works as expected and my car did not crash … ;-)
Since the upper part does tilt when lifting, I want to make a removable bracket.
A rough sketch with the dimensions is created …
… and the parts are already prepared for the next step.
Welded and with 4 threads, it's ready for a first fit.
My crossbars still have very little play but are now secured against tilt.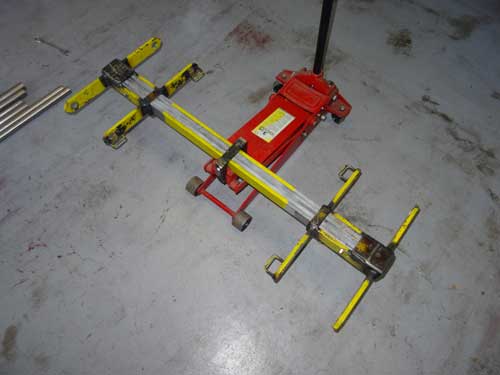 Let's make the first test with full load and see if it works without problems. First I drive the jack between the front wheels and insert the round steel parts from both sides of the wheel. What I have to say is that the wheels are on a 10 cm high wooden block. Later, I will replace this with self-made ramps.
Now I can lift the car to about 50 cm above ground. I still have enough space (5 cm) between the wheel gripper and the underbody of the car across the entire width.
At this point I have to thank Gerhard, who has built my 2016 wheel gripper (a little bit more professional than mine …) and has made two major improvements that I have now taken over. One is for lower vehicles to arrange the gripper arms horizontally rather than diagonally down as I originally had. Precondition is that the vehicle must stand on a 10 cm ramp. The second improvement relates to the tilting of the gripper which can be prevented by additionally put a tube over the round steel, so that the tube can turn along the wheel when lifting the car. Based on my mark you can see that it has turned the tube when lifting by 50-60 degrees. I greased the pipe slightly on the inner side so that it can turn easily.
Now I put my 40 cm high jack stands under the wheels and lower the jack. Then remove the 4 round steels and I can remove the jack from under the car.
Here is a picture of how the wheel gripper looks assembled. Since everything works now, I can finally paint it and this time I will also deliver the drawings.
---
      Copyright ©  2001-2019 Markus Maurer - all rights reserved  
 |  Last modified: 23.12.2018  | 
Print Page