Ford Model A Pickup Restoration November 2014
This month I have started with the wiring.
The trafficators and my rear-view mirrors are mounted. The mirrors are not in its final position. Until I have mounted the door stoppers and I cannot see if the mirrors do collide with the door glass.
This is my turn signal unit. Since I want to hide it behind my wooden dashboard, I've made several mock-ups of carton to see if everything will fit.
This is the look from the driver's perspective with mounted dashboard. The switch can only be seen with a white background - usually it is black in black and you can hardly recognize them.
For the metal housing I had to do some sheet metal work. The eyelets are soldered.
The entire construction is based on a support which is bolted under the dashboard. The switching box is then fixed with two screws. That way I can easily remove the unit, should I have malfunctions with the switches.
On the right hand side there is a removable bracket for mounting a holder for a navigation device. Anyway, my first runs will be not that far away, so I will not need it yet.
Here is the complete unit which I can mount now but the space inside is pretty tight. The lamps I'm using are 6V LED versions I can directly use on my 6V battery.
So far everything is mounted.
Fixed in the final position, only the wooden dashboard is missing.
All my wiper parts are nickel plated and I can put them together. These are all the original parts I'm using. I only replaced the rubber blade.
Since I have removed the 2 rivets for the plating, I had to make new ones now. I'm using brass for that because they do not rust.
The new rivet is finished.
Actually, the wiper is ready for installation, but I have to wait until the wiper motor is running. The reason is that I don't know the end position of the wiper motor - I can see that only when it is running.
For safety reasons, I'll carry such a CO2 fire extinguisher in the trunk. But for that I must fix it in such a holder.
The holder should make it easy to move the extinguisher into the trunk. Therefore I have mounted 2 wheels which do only have ground contact when I lift it a little bit from the horizontal position.
After the successful test I brought all parts into its final shape.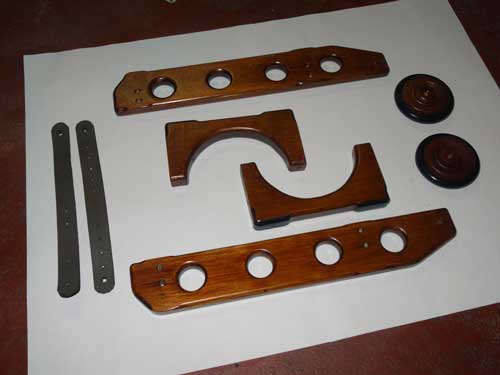 The wood has been varnished, the 2 leather straps are from an old Swiss Army backpack.
My vehicle looks perfect. The 4 support points to the ground are rubberized, so it cannot move in my trunk.
The fire extinguisher has a bit too modern looking - I'm wondering how I can trim it to an older look.
---
      Copyright ©  2001-2019 Markus Maurer - all rights reserved  
 |  Last modified: 23.12.2018  | 
Print Page