Ford Model A Pickup Restoration December 2015
The cleanup is making progress, but as I replace some stuff and paint wall and floor, it takes a little bit longer.
The first project is the new workbench where I welded this frame. I have used rectangular steel pipe for the frame (35 x 35 x 2 mm).
The table measures 2.6 m x 0.9 m. The high is 95 cm.
A vise is already mounted.
14 years of history …
The rack is cleared and removed.
The floor and the wall are painted.
Finally everything should look like this rack - at least I hope so …
Now another project, my electric unicycle. This is my TG-T3 unicycle which broke my collarbone last May. In the meantime, I drove it again, but not near walls - just in case the unicycle should drop me again :-)
Since I had to replace the battery, I wanted to change the color and other things on the wheel. But for this I had to remove a few plugs fist.
The two shells are removed and the first thing I did was to cut these slots.
The running boards are also modified with some additional holes.
Now I can start with the new color. I wanted to create some rat-look with the following 3 colors.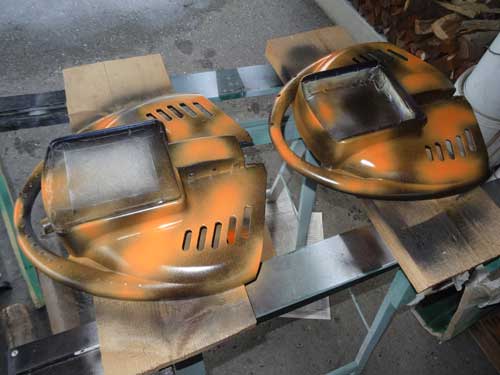 First comes primer and then I painted everything black. Then I added orange color on specific spots like you see it on the picture.
Finally the rust effect color can be applied. Don't cover everything, so the black and orange still can be seen.
The new battery has been delivered and I can begin with the assembly.
The mounting of the old battery was not very good. Therefore, I have made a hole into the housing that the cables have more space.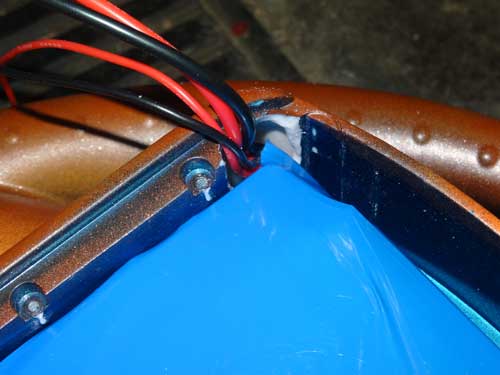 Now the cables are not that much bended as before.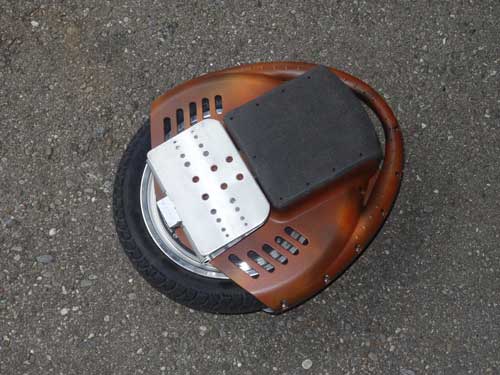 This is my electric unicycle after my 'restoration'.
And here is the running board with the additional holes.
---
      Copyright ©  2001-2019 Markus Maurer - all rights reserved  
 |  Last modified: 23.12.2018  | 
Print Page