Ford Model A Pickup Restoration March 2015
My electric wires did not see any current so far but I was busy this month and had to visit two swap meets :-)
All cables are fixed to the frame now.
The view from below shows where all go through the floor under the seat.
The cables have reached their destination and I can connect them to my switch box.
The internal wiring of my switch box is finished and I can mount it.
All cables have the correct length and I can connect them.
Not finished yet but this is the view when everything is wired.
In between, I wanted to mount the hood. Some parts were still missing, like these leather corners for protection. On the right hand side you see how they look like out of the box and I have seen Model A's which had them mounted that way… Correct mounting position is when you fold the corner like you see it on the left hand side.
To spread the hollow rivets, I've modified the shape of a wrench socket.
In order to get a proper shape, I have put the socket in my drill. In parallel I've grinded the shape with a Dremel.
The leather corners are riveted and also the round rubber cylinder is mounted.
This is my additional support for the hood.
The hood is in it's place, but the hood clips are missing.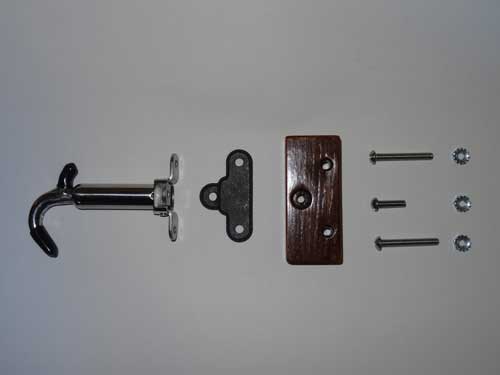 This is one of the hood clips, there are 2 on each side of the hood. Since the hood shelve is slightly above the frame, a piece of timber comes between as a spacer. The rubber piece did not fit, so I've modified it.
The clip is mounted and holds down the hood.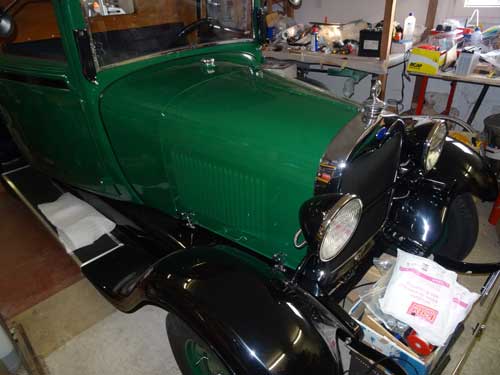 Everything on the hood fits, except one of the clips which I'll have to move a little bit outwards.
---
      Copyright ©  2001-2019 Markus Maurer - all rights reserved  
 |  Last modified: 23.12.2018  | 
Print Page