Ford Model A Pickup Restoration November 2013
In the first picture you get a small preview of what could be completed the last month …
… It is the wooden flatbed. I don't want to show yet the final result, just a small view from below.
After the entire frame has been put together, I could mount the screws of the corners. Here, the screws do hold the edge protection too.
The hinges are fixed on the outside with these modified carriage bolts.
The trunk will be closed at the top edge.
After the floor is in, the trunk is ready.
Now I can mount all boards of the flatbed, of course with some distance between each board.
The first part of rear end is done and the rear fenders are already in place.
Even from underneath it must look perfect - no matter if you can see it …
I almost forgot the trunk lid. From outside a beautiful green color …
… and inside some nice wood. On the door inside you can see 'No 84'. I wrote this onto the door because all pieces of wood such as window frames, etc. had this mark on the inside, not visible when mounted, I suspect that it was the 84th car or coach which was made at 'Frey Wagenbau '.
After opening the door …
… You can now enter the clean and nice 'living room'.
I have lost count in how many screw heads should become green. So the two missing bolts had to be painted.
The last parts are the sideboards.
Frame and board are nailed together.
Now the hinges are fixed with screws.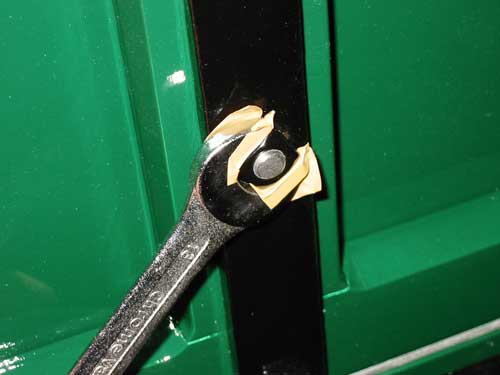 Although the powder coated nuts are durable enough, I have protected them when tightening with a tape. The screw end will be painted later with black paint.
On the top of the sideboards there is also an edge protection, which I have attached with stainless steel pan head screws.
Because the screw heads do shine a little be too much, I have brushed them with a rough household sponge.
Now I can put the sideboards to it's final place.
Everything fits perfectly.
I am satisfied with the result.
Another milestone has been reached.
---
      Copyright ©  2001-2019 Markus Maurer - all rights reserved  
 |  Last modified: 23.12.2018  | 
Print Page