Ford Model A Pickup Restoration August 2013
The paint job of all parts took quite a while, but now I'm finished.
Where is the wooden flatbed?
I have all parts completely removed in order to make the final work like sanding, painting, etc.
Here is the second batch of wood which has to be processed.
As you can see, the edges are not rounded yet. This work will be made now manually with a router. After sanding, everything is ready for the first layer of primer.
The exposed wood of the flatbed must go through a special treatment. I want to get a little tanning of the wood, because the growth rings of the wood will be visible much better and it does not look too clean. I do this with a flame. I first practiced this a little bit, because the gap between a lighter tint and black wood is very close. On the picture you see on the right hand side the untreated board, on the left the one which is treated.
These are all boards after my flame treatment.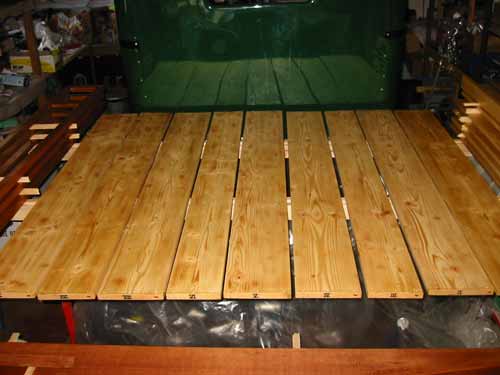 All wooden parts are sanded and I can start with the wood primer and after that with the glaze.
Overall, I have primed 2x, in critical areas such as the front side of the wood parts it was 3x. Then I applied the oak stain in 3 layers.
These are parts of the trunk.
The different colors are due to the different wood I've used (spruce , ash, beech).
After the glaze I prepared the parts for painting.
First, the filler is applied to equalize all irregularities. After subsequent grinding, it decides whether a second coat has to be applied or not.
To easily move the biggest two parts, I've made two of these hooks.
For the sideboards I had to think about how I can put the board on both sides without destroing the already painted oposite side.
Therefore I have mounted these wooden parts at a location which is not visible later.
In this case I used the holes to mount screws which protrude on both sides.
The parts for the sideboards are painted.
All other parts are painted too.
---
      Copyright ©  2001-2019 Markus Maurer - all rights reserved  
 |  Last modified: 23.12.2018  | 
Print Page