---
http://www.Maurer-Markus.ch
/ford_a/ford_a_restore_2018_07.en.html
---
    Ford Model A Restoration  >>  2018 July  >> 
---
Ford Model A Pickup Restoration July 2018
Last month I had to work on my 15 year old Audi. This is not a restoration, only a preservation and I wanted to treat the underbody, suspension parts, etc. against rust, so that I have no problems for another 15 years ;-)

But first to my latest video: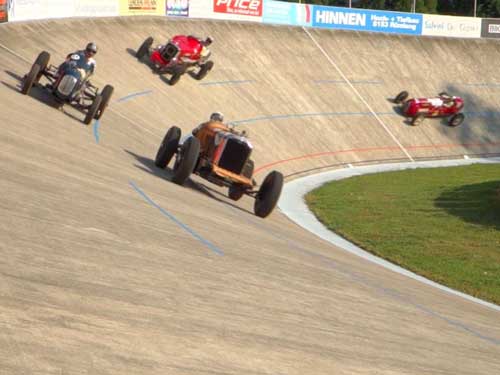 On July 24th, 2018 the so called 'Indianapolis' took place on the open bicycle racetrack in Oerlikon Zurich. Not comparable with the real Indy 500, but here Historic racing cars and motorcycles are turning demo laps in the 333 m long oval.

Click here for the video: Indianapolis Oerlikon 2018
This repair was not planned - the windshield wiper moved only very slowly and since I had a similar issue with another car, I knew what to do. The repair is easy, but first you have to get windshield wiper motor and linkage out of the engine compartment, which was not easy.
The problem is this part with 2 bronze bearings on both sides. Between was sand and dirt, so that it could only be turned with heavy force.
Does not look like if there was still lubricant.
I removed all dirt inside, filled the gap with grease and lubricated everything well. I have also treated the 2nd bearing and assembled everything.
Now it's time to work under my car. Here you see why I have modified my jack stands. Now I can start with removing parts to see how much rust the sheet metal has.
There are several small but not critical rust spots where I removed the rust with my Dremel.
Then clean and degrease with brake cleaner and at the end I'm using POR 15 to cover the spots.
After removing all 4 wheel arches, a lot of dirt came to light, which is the main reason for the rust.
With my previous Audi this was also a weak point. This time, however, I looked in time and all heads were still complete, also grind everything, degrease …
… and treat with POR 15.
For parts like these cable holders I have removed the rust with the wire brush …
… and treated also with POR 15. The screws were also rusty and after cleaning I coated them with RPM (Rust Prevention Magic). Since these parts are mounted on the underside of the rear axle, I will make an RPM endurance test and want to see how the protection behaves in winter operation. I also treated all tapping screws with RPM before assembly.
For me, no rust must be visible, not even on the exhaust, so I want to treat that too.
I had some paint left, it's 'Manifold Gray' (also from POR 15) which I used on the Model A at the exhaust manifold.
First paint the exhaust and all welds, and then burn in the paint when driving.

The underbody is now finished and later I will also treat the leather seats.
---
      Copyright ©   2001-2019 Markus Maurer  |  Creation Date: 15.08.2018  |  Last Modified: 23.12.2018