---
http://www.Maurer-Markus.ch
/ford_a/ford_a_restore_2013_04.en.html
---
    Ford Model A Restoration  >>  2013  >>  April  >> 
---
Ford Model A Pickup Restoration April 2013
The carpenter work is actually my main task.
The supporting cross beams are not just straight. As you can see here, I also had to glue some additional wood.
With a belt sander I brought the wood into shape.
All cross beams have its final shape.
Mounted on the car it looks a little bit more elegant than before.
But now I'll continue working on the side- and tailgates. These are the original ones which are in poor condition and not usable anymore.
The construction is not easy and I have to work precisely that in the end everything fits.
First I spent hours of milling grooves and working with the router. Then I prepared the parts with a rasp and everything is ready now for assembly.
Just compare my new piece of wood and the old rotten part.
And here you can see two pieces of beech wood and how they are put together at the corner.
Finally I glued all parts together and the three frames are finished.
The finish at the inner corners I had to do by hand because I could not find a special cutter for my router … ;-)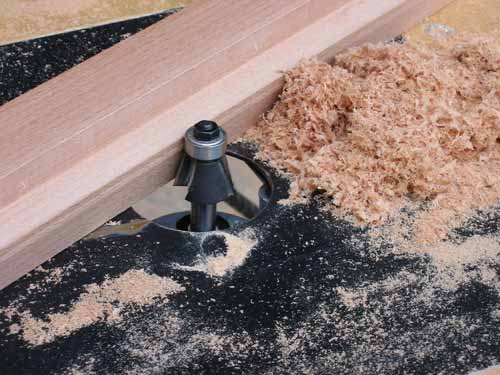 With the router I modified the frames and made a slight chamfer.
The result can be seen here.
The wooden boards of spruce are already prepared, i.e. they have the right thickness and I have only to fit them in width and length.
Now I continue the work on the trunk. For this I need to install a vertical bar first.
Then I can fit the boards for the rear wall.
Here I bring the floorboards into position.
The wooden boards are not finally mounted of course, but the shape and size of the trunk is already recognizable.
---
      Copyright ©   2001-2019 Markus Maurer  |  Creation Date: 12.05.2013  |  Last Modified: 23.12.2018